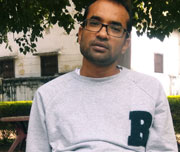 Dr. Mir Islam
Teaching Fellow
mir.islam@nalandauniv.edu.in
Mir Islam is a Teaching Fellow in the School of Languages & Literature/Humanities at Nalanda University. He received MA from Aligarh Muslim University, MPhil and PhD from the English and Foreign Languages University. He has carried out research at the Faculty of Arts, Potsdam University (Germany) and at the Faculty of Linguistics, Literature and Cultural Studies, TU Dresden, Germany. Prior to joining Nalanda, he has worked at Mahindra Ecole Centrale (Hyderabad) and St. Stephen's College (Delhi).
His research interests include: Indian Traditions of Healing, J. M. Coetzee, Postmodern Fiction, Narrative of Pain, Phenomenology, Academic Writing, Critical Thinking, Ecocriticism, Cultural Criticism, Literature and Place, Animal Studies, Posthumanism, Proletariat Literature, South Asian Literature, Literary Narratives of Climate Change, Songs of Marriage in India and Bangladesh. He is currently engaged on three independent projects: i) History of Intimacy and Affect in South East Asia, ii) Indian Traditions of Healing and, iii) Oral Traditions of
Kashmir.
He offers courses on English Language/Literature, Academic Writing, Critical Thinking, Medical Humanities and Interdisciplinary Research at Nalanda University.