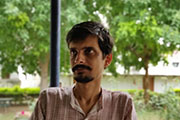 Dr. Shreesha Udupa
Assistant Professor
Shreesha Udupa is an Assistant Professor at Nālandā University. As an Interdisciplinary Faculty, he offers courses at the School of Languages and Literature/Humanities, School of Historical Studies as well as the School of Buddhist Studies, Philosophy and Comparative Religion. He received BA from University of Mysore, and obtained MA and PhD in English from The English and Foreign Languages University, Hyderabad. As a doctoral candidate, he has also carried out research at the Faculty of Linguistics, Literature and Cultural Studies, TU Dresden (Germany).
He specializes in the area of Critical Humanities. He is interested in exploring the cultural differences and their creative and reflective articulations. His fields of research cover performative-reflective traditions with a focus on cultural history and cultures of memory; Digital Humanities, with a specific emphasis on philosophy of technology; Health Humanities, with a focus on the enigma of pharmacology in the narratives from India on the eve of colonialism; philosophical and reflective traditions from South Asia; Literary Theory and Cultural Studies.
He has taught courses on Cultural Studies, Visual Studies, Postcolonial Theory and Literatures, Travel Literatures, Translation Studies, Literary Theory, British Literature: Post World War II and English for Academic Purpose. He has also supervised graduate projects in the areas of literary and cultural studies.
Prior to joining Nālandā, he has held teaching position at Akal University (Bathinda, Punjab). He has also taught at The English and Foreign Languages University (Hyderabad), and SVP National Police Academy (Hyderabad).