UNIVERSITY OF BRITISH COLUMBIA AWARDS FULLY FUNDED DOCTOR OF PHILOSOPHY PROGRAM TO SHUBHAM ARORA (CLASS OF 2018)
May 14, 2018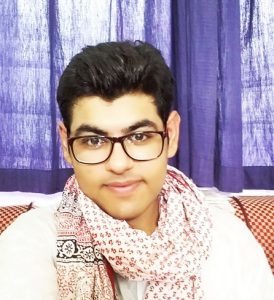 The University of British Columbia, Vancouver (Canada) has offered admission to fully funded Doctor of Philosophy in Asia Studies to Shubham Arora of School of Buddhist Studies, Philosophy and Comparative Religions. Shubham Arora, a Computer Science Engineer but pursuing his passion for academics, is a final-year Master of Arts (2016-18) student. He has won several extracurricular and academic awards while specializing in the literary legacy of Indian erotic and Tantra. In his Master's thesis, he brings forth a textual analysis of the Sanskrit manuscript of the Nāgarasarvasvam (c. 10 th century CE), a least- known text of Indian erotica. "Coupled with the annotated translation of the five chapters of the Nāgarasarvasvam, my research contributes to the chronology of Indian erotica," he added explaining his research.
Further in pursuance of his journey in academics he intends to extend the scope of his Master's research in his doctorate. It's such a feather in his cap! Additionally, in July 2018, he is going to present one of his research papers in the upcoming 17 th World Sanskrit Conference at Vancouver. He has also participated in various international conferences in India and abroad in the past few months. He presented his paper, which expounds on the idea of the Vajrayānic aphrodisiacs, at the 2 nd Vajrayāna Conference organized by Central Monastic Body and Centre for Bhutan Studies from March 28-30, 2018 in Thimphu, Bhutan.
Shubham had attended the Ways of Knowing conference, the 6th annual graduate conference on science and religion at Harvard Divinity School, Cambridge, Massachusetts, USA held on October 27-28, 2017. He presented his paper "Expansion of Consciousness and Attaining Liberation through Sexual Fluids: An analysis of Anaṅgaraṅga and Tantric Sexual Practices of Kaula Tradition of Medieval India" in the panel "Bodily Ways of Knowing" on October 28, 2017. His paper aims at the unveiling and understanding the hidden textual records and practices of Indian erotica and tantric traditions through which a practitioner not only enjoys the pleasures and celebrates life to the fullest but also accomplishes siddhis (perfections) and attains jīvanmukti (attaining liberation while still living in the world). By exploring such textual facts and practices of Kāmaśāstra and Tantraśāstra, he endeavors to contribute to their preservation and the enhancement of the understanding of lesser-known heritage.